Tracking the Trajectory of E-commerce in Retail
Published Expert Article
– by Natalie Dupree
Associate Advisor at Pinnacle Real Estate Advisors
As you've likely personally experienced, the COVID-19 pandemic caused an unexpected disruption for countless industries on a global scale. On a humanitarian level, the pandemic changed the way people viewed their everyday lives – people questioned and reformed the outdated structures we had become accustomed to. Living through and adapting to a global pandemic has had social and economic implications that have reformed countless industries and, in our case, multiple sectors of the commercial real estate industry. One of the most notable sectors to witness a sudden change in consumer habits and behaviors is retail sales. While many maintained a 'doomsday' mentality regarding traditional in-person retail, expecting the asset class to collapse due to modernized forms of shopping and consumer anxiety around personal contact, we can see 2 years since the beginning of the pandemic – that is not the case.

It would be unwise to dismiss the immense growth of e-commerce in relation to the pandemic. The U.S Department of Commerce tracks overall retail spending by various revenue streams. Data shows that prior to the pandemic, digital retail's share of overall retail sales showed consistent incremental increases as both consumers and companies began to increase comfortability with online platforms and enhanced efficiency in their distribution channels. Prior to 2020, no year-over-year change of e-commerce's market share was higher than 2 percentage points. Due to COVID-19, online shopping's share of retail revenue increased by 3.6% – jumping from 15.5% in 2019 to 19.1% in 2020, where it remained at 19.1% through 2021. Aside from an increase penetration of overall retail spending, e-commerce saw tremendous growth in revenue. There was an astonishing 50.5% increase in online spending between 2019 and 2021 while the median growth in revenue for the 5 years leading up to the pandemic stood at 14.2%. (Noted Statistics pulled from Digital Commerce 360's analysis of non-seasonally adjusted Commerce Department data that excludes spending in the segments that don't typically sell online – restaurants, bars, auto, gas, fuel).

We can see this growth is attributable to the market conditions brought on by COVID-19 . As CDC restrictions weakened and people became more comfortable with social interaction following vaccinations, consumers began to reduce their online shopping and returned to in person retail. In person sales accounted for 80.7% of overall retail gains in Q4 2021 with their sales increasing by 14%, which is more than 3x higher Q4 2020 which reported a 4.5% increase. Online retailer's share of retail revenue dropped to 13.1% which is a significant drop from their peak of 17.3% in April of 2020. Large retailers such as Amazon and Wayfair reported their second monthly fall (6.4%) and first annual decline.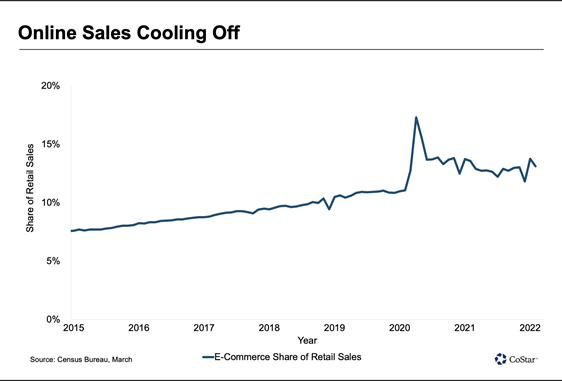 Taking a look at Denver Metro's retail sector, we can see it remains stable and shows opportunities for investment growth as consumer spending remains consistent and retail revenue streams have stabilized. The asset value of the retail sector has shown a steady increase throughout the pandemic. Total asset value increased by $4.3B between Q1 2020 ($36.5B) and Q1 2021 ($40.8B) and projected to rise to $43.7B through 2023. Vacancy rates were around 4% prior to the pandemic and rose as high as 5.3% in Q1 2021. Since the peak in Q1 2021, we've seen a steady decline in vacancy rates, sitting at 4.6% in Q1 2022. Despite the various vacancy rates over the evaluation period, we have seen a consistent increase in annual rent growth. Starting in first-quarter 2019, rent stayed around 3.8% and dropped to 2.8% in fourth-quarter 2019. It dipped as low as 1.5% in second quarter 2021, but since then, there has been steady quarterly increases and quarter-to-date, we're at 3.5% annual rent growth. The projected rent growth in first-quarter of 2023 is 4.4%.
As expected, there were multiple quarters during the pandemic, specifically Q2 2020 through Q2 2021, that reported negative net absorption with the peak in Q1 2021 at (-993,043) SF. Since Gov. Jared Polis lifted Colorado's statewide mask mandate in the middle of Q2 2021, we saw a slow but steady increase in the 12 Month Net Absorption – 160,730 (Q3 2021) and now 1,251,782 (Q1 2022). The most notable trend is the 12 Month Sales Volume growth. Even before COVID-19, Denver's retail sector showed negative growth at around -22% every quarter of 2019. The lower rates continued to dip, peaking at -31.9% in Q1 2021, until Government restrictions were removed in Q3 2021 where it rose to 17.2%. Last quarter we saw a 132.6% increase, and QTD we are sitting at 132.6%. (Source: CoStar)

Despite recent favorable trends in the retail sector, there are critical issues that must be considered and addressed to ensure future growth and profitability. The future begins today and both local and national retailers need to adapt to survive (and thrive!) in today's day and age. By being proactive and addressing the following factors, retailers have the opportunity to restructure their business practices to ensure long-term success.
Certain behaviors and values have reshaped the modern workforce – employees place greater emphasis on fair pay, flexible work schedules, and social factors such as culture, diversity, and inclusivity. This causes unique challenges to retailers, considering workforce conditions and labor problems. As a result, 83% of retailers are investing the majority of their resources in recruiting and retention. 80% of retail executives interviewed by Deloitte agree that consumers will prioritize product availability over retail loyalty – why would a consumer wait for a distributor to have a product in stock when they could get it in two days through Amazon? Utilizing supply chain outlets that are equipped to track demand planning, inventory management, and fulfillment forecasting will keep a retailer ahead of the curve for the years to come. Finally, both small and large retailers must have the technological capabilities to compete in the digital market and against Amazon. (Source: Deloitte)
With all said, it is apparent that the recent "demise" of the retail sector is almost entirely attributed to the pandemic and government limitations that restricted employees and consumers access to physical shopping. Since mandates were lifted, both consumers and investors are returning to in-person retail – a trend that won't be disrupted anytime soon. Adapting to the new marketplace and implementing modernized practices will position retailers, and in turn real estate investors, for success in the future.