Suburban Retail is the Next Investment Frontier
Published Expert Article
– by Keith Lenz
Associate Advisor at Pinnacle Real Estate Advisors
Colorado was the 7th fastest growing state from 2018 to 2019 and then moved up to the 6th fastest growing state from 2019 to 2020 according to the U.S Census Bureau. However, when walking through downtown Denver, it gives the false impression that retail is plagued with vacancy. One year before the pandemic hit in March of 2020, downtown Denver was at an all-time low in terms of multi-tenant retail vacancies, according to Costar Analytics. It is now the highest that it has been in the past 10 years. Why would anyone want to invest in an asset type that won't have tenants? Where are all these retailers going? Is everything being shifted to e-commerce? The answer: they are going to the suburbs! Suburban retail has shown signs of growth, profitability, and a strong comeback in this seemingly post pandemic world that has shifted the way we do things in our daily lives.
(For this article "suburban retail" or the "suburbs" in this article is referring to all surrounding counties of Denver County, which are Adams, Arapahoe, Douglas, and Jefferson. Downtown Denver" refers to Costar's submarket area of Denver's Downtown Neighborhood)

A large amount of retail is being shifted to e-commerce and online shopping. In a 2019 study conducted by Amazon, small and medium sized business sell over 4,000 items per minute on their site. Anything can be ordered and delivered to a customer's door through a couple of taps on a phone, which leaves private capital investors cautious of investing in local neighborhood retail strips or any retail, for that matter. The prevalent vacancy of retail in downtown Denver doesn't help that cautious attitude either. The retail market is shifting, but it is not going entirely online. While many may think that retail only consists of buying goods, people have forgotten about its economic counterpart: services.
Ever since the pandemic and the distribution of stimulus checks, consumer spending is at an all-time high due to an increase in Americans' average disposable income. According to the U.S. Bureau of Economic Analysis, the average disposable income of Americans rose 67% during the first quarter of 2021. That large increase coupled with employees staying indoors for long hours at a time due to remote work has had home-dwellers champing at the bit to get out of the house and spend this new stash of income. That begs the question of what people are spending their money on. Goods and services.
In the past year, just over 60% of all of the leases signed in suburban Denver were service-based companies, versus 30% that were retail trade-based companies. Between October of 2017 and 2018, service-based companies made up only 40% of all leases signed, while retail trade held the majority at roughly 50%. Is service-based retail a fad? The graphs below show the top leases by amount of square footage leased from October 2017 to 2018, versus October 2021 to 2022.
Judging from the top companies signing leases in 2017 to 2018 versus 2021 to 2022, the answer is no, it is not a fad. Chuze Fitness, a family-owned chain of fitness clubs, was the second largest leasee between 2017 and 2018, and has since moved up to the top of the list of last year's largest leases by amount of square feet. This category of service-based retail has recently outperformed all others and cannot be bought online. It needs a brick-and-mortar footprint to house its business. The majority of the companies on the list of largest leasers from last year are service-based companies. The need for space to house their businesses shows no signs of slowing.
Where does the demand for this space lie? The suburbs. It is cheaper to rent, easier to have large parking lots, and generally safer in terms of crime. Below are two graphs that show the current vacancy rates of suburban multi-tenant retail vs Downtown Denver multi-tenant retail.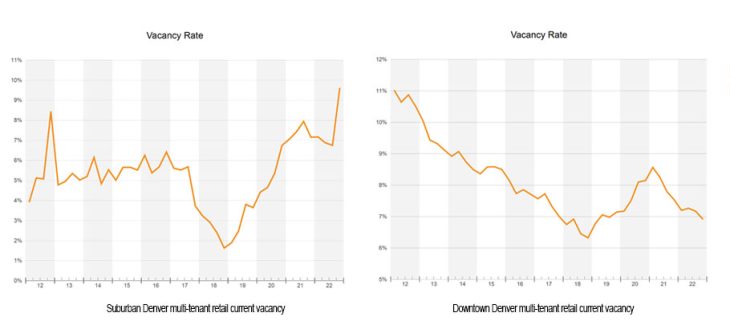 Vacancy in Downtown Denver is on a sharp rise, while vacancy in suburban Denver is on a steady decline.
Two main components of a lucrative real estate investment are 1) low vacancy and 2) a high cap rate. Suburban retail has a proven track record for industry growth and low vacancy, but how do their cap rates compare to other popular investment types such as multifamily? In the past year, multi-tenant suburban retail investment sales have had an average cap rate of 6.2%, per Costar (multi-tenant retail between 7,500 sf and 50,000 sf). Multifamily investment sales in the same area have had an average cap rate of 5% (5 to 200 units). That 1.2% difference means $36,000 more in net operating income on a building that has a $3,000,000 purchase price. What's not to love about low vacancy and higher cap rates?
The exploding rent growth in Denver regarding apartments, the lack of supply coupled with a high demand for industrial space, and the decimation of the office market have dominated the real estate landscape as of late, but suburban retail has been largely ignored. Looking at the data, suburban retail is a trend that needs to be on the top of every commercial real estate investors' minds when considering new investments in Colorado.
Featured in CREJ's November 2022 Retail Properties Quarterly