Metro Denver Multifamily Recovery Following the Great Recession
In this multifamily market analysis, we examine the recovery periods of Central Denver, the West Metro Denver Suburbs (Westside*), and Aurora following the Great Recession. We aim to offer valuable guidance for our clients as we enter what may be another challenging period. The graph below shows the median price per square foot for C-class multifamily properties beginning in 2007.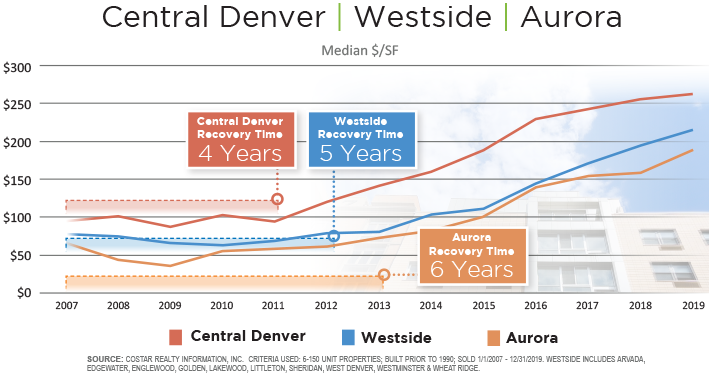 Between 2007 – 2019, all three markets increased by roughly the same percentage, but across different time periods. Market value in Central Denver recovered first and reached pre-recession levels sometime in 2011, eventually slowing in 2016, and effectively stalling in 2019. It is not surprising to see the fastest recovery in Central Denver (urban core) where proximity to employment centers and amenities drives value. This fast recovery coincides with Denver's relatively low 7.8% value loss during the Great Recession. Though Central Denver apartments led post-recession value gains, the increase in value between 2016 and 2019 was a relatively modest 14%. Although Central Denver was the fastest to recover, it has seen the slowest rate of growth over the last four years when compared to the other two submarkets.
The two suburban markets, Aurora and the Westside, lagged behind Central Denver's value patterns by about 1-2 years and also experienced greater value volatility. It took longer for the Westside and Aurora to reach pre-recession prices compared to Central Denver. Aurora was hit hardest during the recession, losing 45% market value between 2007 and 2009. Conversely, it was also the top performing market in terms of value growth for the last year, with an 18.4% growth rate. This data speaks to how fragile less established markets can be during economic downturn and also to their phenomenal upside during economic expansion. Keen investors are aware of this condition and deploy capital accordingly. Investors who succeeded during the last cycle strategically timed their acquisitions and dispositions by moving money from one submarket to another. Many of these buyers had cash to deploy in a difficult lending environment early in the recession. The savviest of investors purchased in Central Denver early in the recession, then sold as the growth curve began to normalize in 2016, and subsequently redeployed their equity into either of the suburban markets where the value growth curves were steep.
This type of strategy can produce plentiful rewards for savvy investors, but is not easy to execute. The Newell Team at Pinnacle Real Estate Advisors advises their clients on how to utilize these strategies, and others, to help you achieve your investment goals. Give us a call today to discuss market events and your real estate investment strategy.
*Westside includes Arvada, Edgewater, Englewood, Golden, Lakewood, Littleton, Sheridan, West Denver, Westminster and Wheat Ridge